Roll-fed FD330T Automatic Square Bottom Paper Bag Machine with Handle inline
Roll-fed Automatic Square Bottom Paper Bag Machine with Handle inline
Fully automatic square bottom paper bag machine is designed for the production of paper bags with twisted handles. It is suitable for mass production of shopping bags in industries such as food and clothing. The one-line process consists of twisted handles making from paper rolls and twisted rope, delivery of handles to paste unit, pre-cutting of paper on position of rope, patch position gluing, handle pasting, and paper bag making. The paper bag making process consists of side gluing, tube forming, cutting, creasing, bottom gluing, bottom forming and bag delivery. This machine adopts Janpan imported high-speed motion controller (CPU), which controls the operation of servo through high-speed bus to ensure stable movement and smooth motion curve. It is the automatic square bottom paper bag equipment with handles inline preferred by the majority of printing and packaging manufacturers.
Main features:
1.Use Taiwan WEINVIEW touch screen human-computer interface, making the machine easy to operate and control.
2.Adopt Janpan original Mitsubishi PC control, integrated with optical fiber. Thus ensure stable and high speed running.
3.Adopt Janpan original Mitsubishi servo motor and German original SICK photoelectric eye correction, tracking printing bag accurately.
Raw material loading adopts hydraulic auto-lifting structure. Unwind unit adopts auto tension control.
5.Raw material unwinding EPC adopts Italy SELECTRA, reducing material alignment time.
The main features of flexo printing :
1.The ink is transported by a separate gear motor, and the ink pump circulates the ink.
2.Use a closed scraper to scrape ink, ensure high-speed printing and prevent ink splash
3.Pneumatic lift and drop mode, automatically start after shutdown, automatically transport ink after printing plate installation,Printing plate automatic printing after booting
4.Independent closed type hot and cold dual function drying system
Type
FD330T
Bag Width
130-330 mm
Bottom Size
70-180 mm
Cutting Length
270-530 mm

(No handle)

270-430 mm

(With handle)

Bag Length
225-470 mm(No handle)

225-370mm(With handle)

Max. Speed
180 pcs/min
Paper Roll Width
400-1050 mm
Max. reel weight
600 Kg
Max.Roll Diameter
1200 mm
Reel inner diameter
76 mm
Paper specification
60-170 gsm
Handle Rope Height
100 mm
Handle Rope Diameter
4-6 mm
Paper rope spacing
76.2mm
Handle Patch Length
152.4mm
Handle Patch Width
35-50 mm
Paper Patch Roll Diameter
1200 mm
Paper Patch Roll Width
70-100 mm
Paper Patch Thickness
100-150 gsm
Web edge control system
Double photoelectric automatic correction control system
Web tension control system
automatic constant tension control system
Air pressure
≥0.12cmm, 0.6~1.2Mpa
Driven motor
Seven servo motors
Electric
380V,50 Hz, 3 phase
Power
27 KW
Weight
13700 Kg
Overall dimension(L×W×H)
12200×5700×2500 mm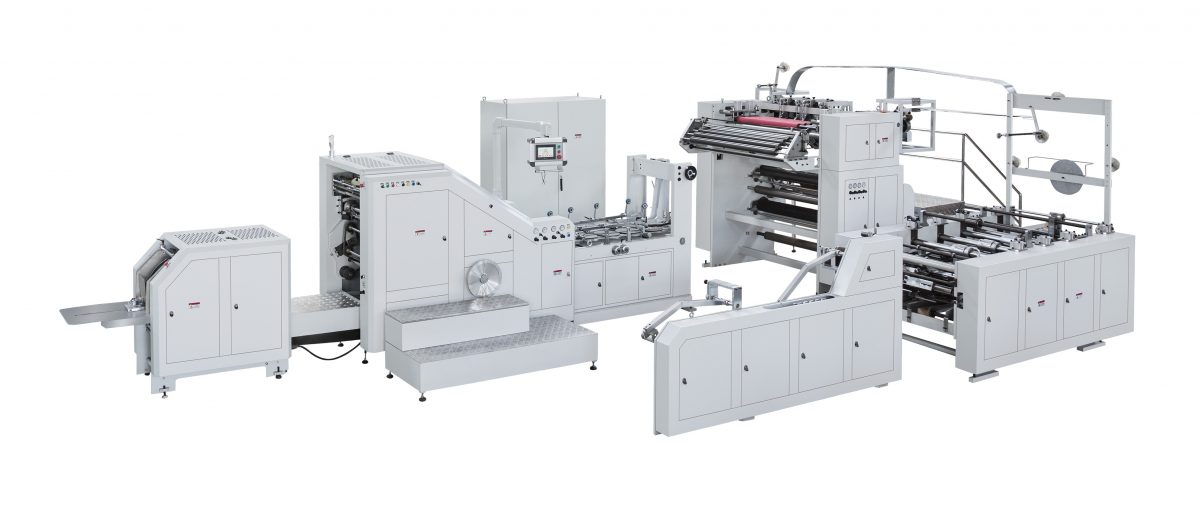 Contact
Volmas

Packaging

Get in touch with us today to discuss your project and how we can help you fully realise its potential.